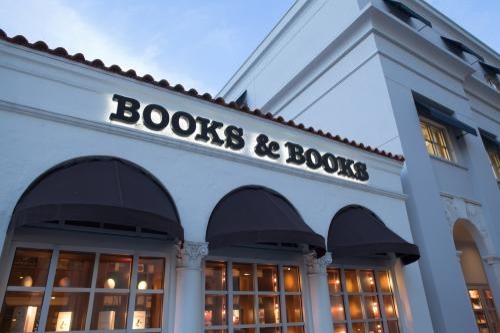 Books & Books, Coral Gables was founded by Mitchell Kaplan in 1982. Since that time, the store has become one of the most well-respected independent bookstores in the country. It's a local landmark and an inspiring gathering place for writers as well as readers. The philosophy at Books & Books has remained constant throughout the years: it's about neighbors, books, history, quality, tradition and creativity.


Books & Books is currently located in an exquisite 1927 building listed in the Coral Gables Register of Historic Places. The 9,000 square foot, Mediterranean-style building has original tile floors, a fireplace, beamed ceilings, floor-to-ceiling dark-wood bookshelves, and open-air courtyard and a full-service cafe. Our breezeway holds a newsstand with a wide selection of national and international newspapers and magazines. Since 1982, Books & Books has hosted local, national and international writers as part of its award-winning Reading Series.
Guests range the gamut from first-time authors who are just introducing their books, to critically acclaimed writers who are known the world over. Books & Books hosts reading groups, poetry groups, free workshops and lectures, and partners with many cultural, educational and charitable organizations to present special events at its seven locations.