Piano Teacher Patrick Lopez-Asheville, NC.The passion of music!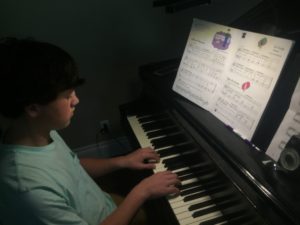 Patrick Lopez teaching Piano
Piano Teacher Patrick Lopez-Asheville, NC.The passion of music!
When it comes to taking piano lessons at home, there are some key things you have to consider to make the experience enjoyable for the student. The passion of taking lessons starts with the right piano!
1. Buy a piano. This may or may not seem like a no-brainer to you,I will explain. Your child will not make progress without a piano at home with which they can practice between lessons. So until you have a piano just ask me to find one that is suitable for you. I personally enjoy a Steinway and Sons. It is such a great instrument!
Ideally you will buy a good acoustic piano, but there might be reasons why you would prefer a digital piano. (usually issues related to living in an apartment or a very small house). You want an acoustic piano because it does cool stuff that digital pianos can't do.
– things like capturing harmonics when you silently depress the keys and then play other keys,playing different sounds ( electric piano, strings, clavinovas,etc) They are great things to have but ideally is the real piano action is what you want to strive for.
But if a digital piano is the best option for you you'll discover that a digital piano offers some wonderful extras that acoustic pianos don't deliver (things like recording your performance and a variety of sound options – how many extras, and how wonderful they are, will depend on the quality of the digital piano you buy). The thing is you need weighted keys, touch sensitivity, a fixed pedal, a music stand that is not flimsy, and a sound that really does match the sound of a piano. I cannot stress that enough!
If you really need assistance in just getting a piano, just ask me. Send me a email to: infor@patricklopez.com