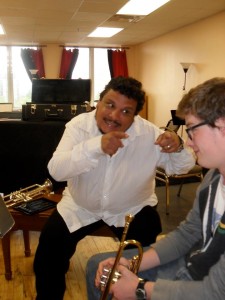 PATRICK LOPEZ
Hi there, my name is Patrick Lopez, and I am now a new resident of the Asheville area. I am a music teacher of Trumpet, Piano, Voice and Sound Recording with more than 20 plus years of experience. Below, I relate some of my experiences and philosophies as a teacher of music since 2002.
Trumpet Lessons
I have worked with adults and children, with beginners, and with more experienced players looking for a push or a new direction. I have developed many different teaching methods based on what each of my students wants to get out of lessons. The heart of most lessons I teach is learning to play or understand songs. Usually, I rely on my students to select the songs they wish to study, which I then transcribe to make personal arrangements fitted to their abilities. Of course, I will suggest or recommend songs at times. I also supply relevant exercises and music theory to accelerate the learning process.
Piano Lessons
I differentiate between concepts and skills, while stressing the importance of mastering both. As important as it is to understand the intervolic relationships in something like the major scale, this knowledge does little for the pianist if she or he cannot pick out the notes to the different scales in real time. In observing that each person demonstrates unique learning patterns and abilities, I have learned that some people will come to understand the conceptual through mastery of memorized tasks while some will succeed with technical mastery only after achieving some conceptual understanding.
Voice Lessons
Having first begun singing at 22 years old, I know first hand that it's never to late to start singing. Having some experience in school but not fully as a professional till in my 20′s, I have learned from some of the top professionals in the South Florida area. My first vocal lessons was with Gloria Estefan's back up singer Jon Secada. Jon has his first hit "Just Another Day" that stayed at #1 for several weeks. His one lesson really helped me use singing in my gigging around town. From that time on, I have used this technique for all my students. focusing on JUST BREATHING, has helped many of my students.
Teaching Sound Recording
Working in the early 1980s with recorded music and computers, I was introduced to the new wave of recording at its birth. At Miami Dade Community College , I taught and assisted students in Composition, Sound Development, and Sound Recording using Mac computers and PC's. As of this day, I personally teach recording in Logic Pro, Bias Peak and Mastering using Waves plug ins and having finished products in Mp4 format and or CD's.
http://www.ashevillemusicschool.com/teachers/patrick-lopez/